Comfortably Thin 

Hygiene pants with its slim design and breathable materials, gives you ultimate comfort just like wearing underwear.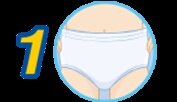 1. Comfort Thin Fit / 輕薄貼身 / Nyaman dan Tipis 

• Especially shaped and designed for soft and good body fit for lasting comfort. 

• 輕鬆穿著,緊貼體形,持久舒適 

• Khusus direkabentuk lebih nyaman dan tepat tubuh badan untuk pemakaian jangka panjang.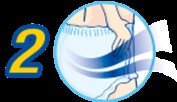 2. Breathable / 透氣舒爽 / Lapisan Telus Udara 

• Dry comfort and allows air circulation 

• 內外透氣,清爽舒服 

• Nyaman dan tetap kering dengan pengedaran udara bebas.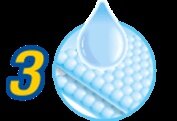 3. Double Layer Absorbent Pads / 強效吸收鎖水層 / Lapisan Penyerap Ganda Handal 

• Quick absorption and backflow prevention 

• 迅速吸收尿液,防止後漏 

• Lapisan penyerap ganda yang bertugas memastikan penyerapan cairan sehingga permukaan tetap kering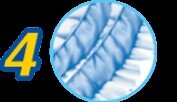 4. Leak Guard Prevention / 特設防漏隔邊 / Pelindungan Anti Bocor Ganda 

• Provide extra leakage protection 

• 提供雙層防止滲漏功能 

• Perlindungan ekstra dari kebocoran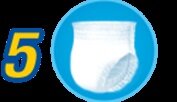 5. Soft Stretchy Waistband / 柔軟彈性腰圍 / Pinggang Berelastik yang Lembut 

• Easy to wear and comfortable fit like underwear 

• 如內褲般貼身輕巧,倍感自然 

• Mudah dan selesa seperti memakai seluar dalam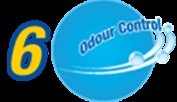 6. Odour Control / 抑味鎖水層 / Pengawal Odor 

• Control unpleasant odour with polymer gel 

• 高分子吸收體幫助抑制異味 

• Mengawal bau yang tidak menyenangkan melalui polymer gel.

Liquid error: Could not find asset snippets/related_products_villefy.liquid-->