Why Sentida 6 Home Nursing Bed Emerged as the Leading Brand in the Nursing Bed Industry?
The Sentida 6 Home Nursing Bed's Patented SafeFree® side guard concept protects the patient from any accidental falls.
1. Patented SafeFree® side guard concept
Can be adjusted to 4 different heights
No middle post, no dangerous middle gap
Access to residents in 4 sec. at the most
No space needed on the side
2. 3-stop-strategy
Height Adjustments ranging from 25cm to 80 cm allows different levels of accessibility for the patient.
25 cm = Sleep
40 cm = Mobilization
80 cm = Nursing care
3. Comfort Seating Position
The Sentida comes with a pre-programmed seating position for patients, adjusted for maximum comfort in a seated position at a comfortable height, perfect for reading, watching TV, meals, and other activities!

4. BiNetic patient surface

DBfK-backrest + 11 cm
It also comes with a unique BiNetic patient surface with double retraction for effective pressure ulcer prevention. This means the bed panels extend outwards when shifting to a reclining position, allowing the user to rest comfortably instead of being folded up in a cramped position.

Your benefit: Reduction in compression and in friction and shearing forces thanks to leg rest retraction by an additional 6 cm
4. Integrated bed extension

Express bed extension with a standard cable pull for divided side guards
Bed lengh is adjusted without any tools in a matter of seconds
An Integrated Bed Extension up to 20cm allows more comfort for taller patients and it comes with a Smart Handset with 3 modes (Nursing, Resident and Locking Mode)
5. Handset SafeControl®

In addition to its clarity and ergonomic design, the SafeControl® handset stands out due to its intuitive operation. Thanks to motion sensors and controlled backlighting, all selectable functions are displayed to the operator, ensuring easy operation. This ensures easy operation, especially at night.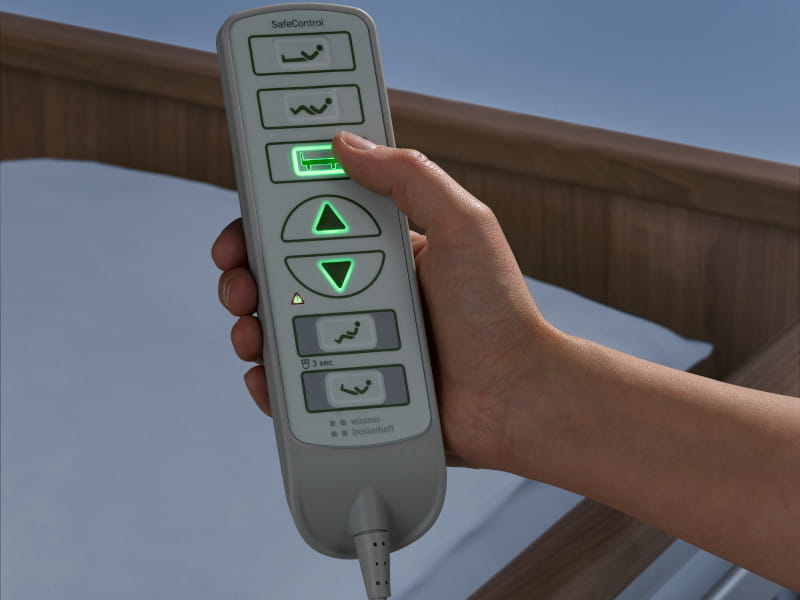 6. PrimaCare 10 Mattress

PrimaCare 10 is a 14-cm-high, single-layer mattress made of polyether foam with a bedsore prevention profile on the upper side.

The mattress core consists of a solid block of cold polyurethane foam with a profiled upper side that is designed for improved pressure distribution. It also provides for more comfort while lying down, as the mattress adjusts to the body.

With correct positioning of the patient, the mattress is suitable for patients up to a third degree risk of the incidence of pressure ulcers.
Size: 200cm x 87cm x 14 cm

Max patient weight 200kg (lying down)
7. Night light function (Optional, Additional Cost for this feature)
Switchable ON/OFF via handset
Helps the resident find their way at night
More safety for the resident
Simple power connection control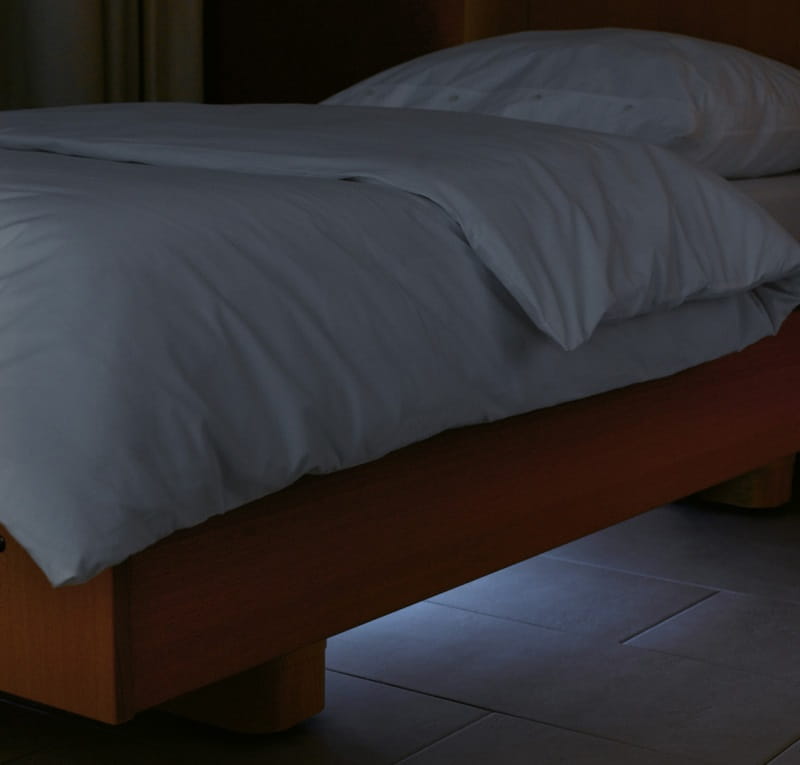 8. SafeFree Flex
In addition to fixed side elements, our SafeFree Flex side rail concept offers individual and future-oriented as much freedom as possible and as much protection as neccessary. This allows you to react flexibly and budget friendly to the needs of your residents.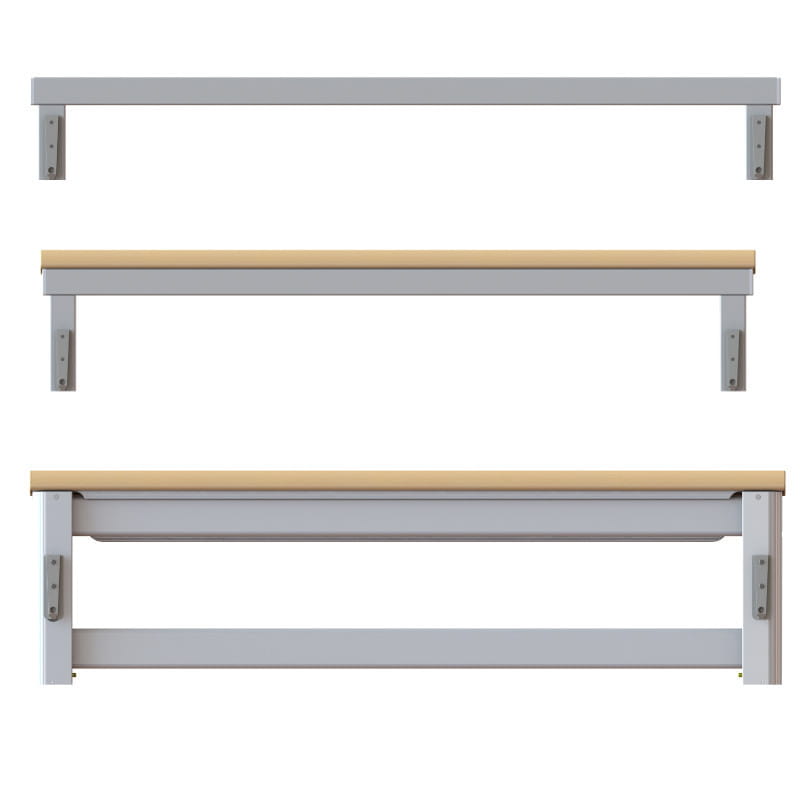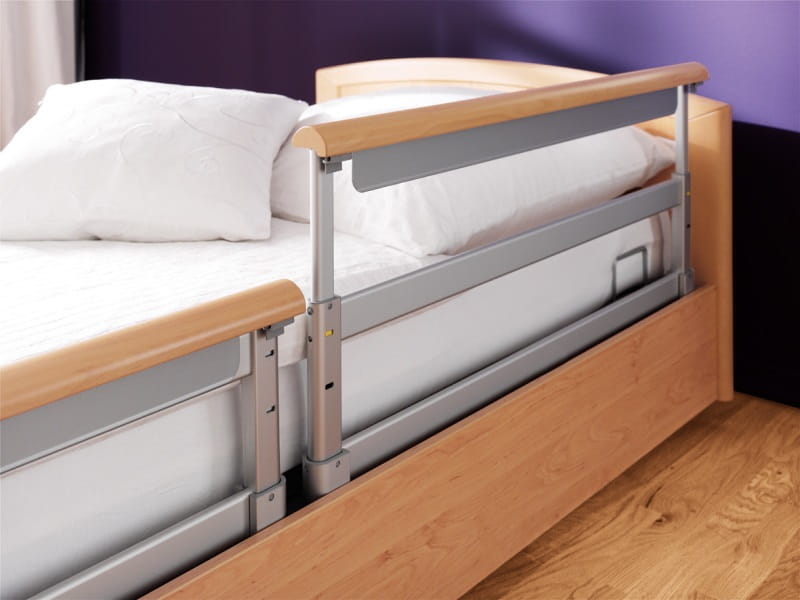 9. Add on Feature: Automated Pressure Relief by automatic repositioning by Careturner as it operates very silent and without any vibration
Latest Events
Date: 3 November 2023 FridayTime: 10am to 3pmVenue: 10th Floor, West Wing, Berjaya Times SquarePartner: Act4Health     Product to promotehttps://ielder.asia/collections/act4healthhttps://ielder.asia/collections/training/products/hrd-corp-claimable-applying-acupressure-for-occupational-diseases        

Read now

  Celebrating the International Day of Older Persons! A shoutout to the Third Age Media Association (TAMA) for recognizing the incredible contributions of older women in our families and communities. Their nurturing spirit and unwavering support inspire us all! Hats...

Read now

Join us at the Atria Mall from September 29th to October 1st, 2023, as iElder hosts a booth in collaboration with "The Celebration: Life Begins at 50" event by Amazing Seniors.     Keep an eye out for our exciting...

Read now