How to Potty Train a Bedridden Patient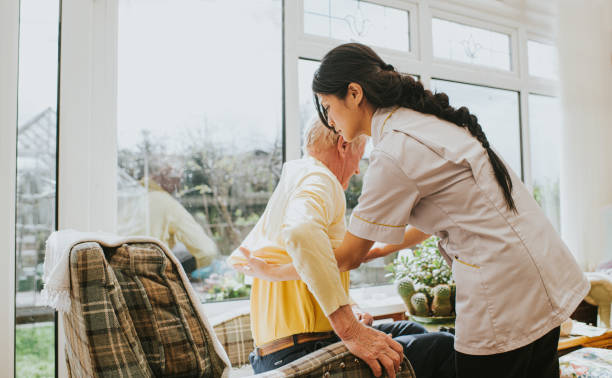 If your loved one is bedridden, and you are the full-time caregiver, the most difficult part facing you would be how to manage the toilet training of your bedridden loved one.
To put it simple - how to potty train a bedridden patient.
Not only is it a stressful and embarrassing moment for the bedridden patient but also for you as the caregiver.
The patient's dignity must be always respected, and care must be taken by the caregiver to give this a careful approach.
Since each bedridden patient's needs and conditions are different, it would be better to establish and develop a "right toilet routine".
So here are some techniques and equipment to help you or someone you care for to use the toilet or potty chairs for adults safely and with dignity:
Techniques and Equipment to Potty Train a Bedridden Patient
1. Getting useful toilet equipment for bedridden patients
How to potty train a bedridden patient will depend on the patient's mobility.
For instance, there are patients who are completely bedridden, those who can sit up on the bed, those who can ease themselves onto a wheelchair and those with some mobility to move from bed to the bathroom.
Based on the patient's condition and mobility here are some options listed below which can be considered.

2. Adult potty chairs
The question always asked is - Who Should Use an Adult Portable Potty Chair?
They are patients having mobility or continence issues, those who had surgery and need to be rehabilitated, people with urinary tract infections, people that have difficulty walking and with balance issues can also benefit from a bedside commode and lastly just seniors/the elderly.
These potty chairs are safe and convenient and for easy maneuverability, these toilet chairs have arms to support the user when getting in and off the toilet and if you travel, it can go with you.
You can physically transfer the patient to the bathroom, using an adult potty chair. The adult potty chairs are just like chairs, and you can place them near a bed.
When the patients come to a stage where they begin to lose their balance, the adult potty chair is a savior.
The patient can sit comfortably and upright, which makes it easier to empty their bowels and bladder.
However, unlike a toilet, the adult potty chair is not attached to the plumbing, and you need to empty the pan manually.
Earlier we mentioned about the preservation of the bedridden patient's privacy.
These adult potty chairs are ideal for maintaining that privacy as you know the elderly place a high value on their dignity.
3. Bedpans 
Bedpans are most widely used for urination and defecation, and nowadays they have improved and are better designed to be ergonomic and comfortable to use with patients who have limited mobility.
They are available in both metal and plastic.
If you use a bedpan, you may also want to consider absorbent bedpan liners or bedpan bags, which make it easier to keep the bedpan clean and dispose of the contents.
These are used for those patients who are completely bedridden and moving them around become a challenge for the caregivers.
4. Incontinence Pads and Adult Diapers
Handling incontinence issues in the elderly can be a challenging task.
This can be dealt with in a proper way by the introduction of practical supplies such as, disposable diapers, incontinence pads, and cleaning supplies.
These are still being used by patients who are both bedridden and incontinent.
They need to be assisted by the caregiver on most occasions. The incontinence pads should be absorbent and help to protect the wearer's skin.
A constant check is needed by the caregiver to ensure an incontinent patient is not wet or in discomfort.
5. Catheters
Catheters are tricky and must be fitted by a qualified medical professional. They are tubes inserted through the urethra and into the bladder to drain the urine.
Catheters are not the best option for long-term use because they risk infection but may be used for patients who cannot use a bedpan or incontinence pads.
6. Portable toilet – A blessing for the elderly
As the elderly become frailer and more bedridden, their need for portable toilets, or a bedside commode, may become more urgent and are a blessing for our loved ones.
This is especially useful for those who are suffering from chronic ailments, for example arthritis or other degenerative bone disease.
These portable commodes are adjustable, and they enable the caregivers to adjust the size of the toilet seat.
The size of the commode varies, and you need to choose the one that best suits the needs of your loved ones.
Think of using commode liners for your loved ones as it will make the cleaning process extremely easy.
They can also be conveniently placed by the bed to enable the patient from getting up from bed onto the portable toilet to urinate.
It also helps prevent falls and injuries that can happen when an elderly person rushes to the bathroom.
Some of the duties in potty training a bedridden patient does not stop with the equipment needed.
Here are some basic steps and tips to follow when involved in handling the bedridden patients.
Basic Steps and Tips when Potty Train a Bedridden Patients
1. Giving In-house Training for Caregivers
Giving In- house training for caregivers is important for the caregivers and toileting and diaper training can be done from an occupational therapist, or a nurse practitioner.
Learning some of the techniques to reduce incontinence issues can help the caregiver.
 2. Clear Pathway to Bathroom
Make sure the pathway to the bathroom should be well lit and free from any obstacles.
3. Install Grab Bars
If possible, install grab bars, so that your loved ones can get support while getting in the bathroom.

The clothing of your loved one should be easy to take off while toileting. This is also necessary to avoid leakage.
4. Maintaining Hygiene of Potty Equipment
Maintaining hygiene while using such products is extremely essential. Make sure you wash your hands before and after using the diapers. Also, wearing disposable gloves is essential.
In a Nutshell
Aging gracefully can be done with dignity and pride. When it comes to toileting use the above tips and solutions to help give your loved ones tender loving care.

The End
Latest Events
Date: 3 November 2023 FridayTime: 10am to 3pmVenue: 10th Floor, West Wing, Berjaya Times SquarePartner: Act4Health     Product to promotehttps://ielder.asia/collections/act4healthhttps://ielder.asia/collections/training/products/hrd-corp-claimable-applying-acupressure-for-occupational-diseases        

Read now

  Celebrating the International Day of Older Persons! A shoutout to the Third Age Media Association (TAMA) for recognizing the incredible contributions of older women in our families and communities. Their nurturing spirit and unwavering support inspire us all! Hats...

Read now

Join us at the Atria Mall from September 29th to October 1st, 2023, as iElder hosts a booth in collaboration with "The Celebration: Life Begins at 50" event by Amazing Seniors.     Keep an eye out for our exciting...

Read now